Phyllis Shacter Answers Questions on VSED
Speaking of Dying


Workshops
The following workshops are facilitated by Jennifer Kropack
Contact Jennifer at jwakropack@comcast.net or 206-713-8973 to register or for more information.

Des Moines, Washington
Tuesdays, November 14, 21, and 28 and December 5, from 6 -7:30 p.m.



The following workshops are facilitated by Caroline Stevens
Contact Caroline at 206-855-8482 to register or for more information
Sundays, October 29, November 5 and 12, 2-4 p.m.
Bainbridge Island

The following workshops are facilitated by Laurel Riedel in Minneapolis, Minnesota.
Contact Laurel at 612-868-4116 or
speakingofdyingmn@gmail.com to register or for more information.

Saturdays 10 am-11:30 am, four sessions: October 7, 14, 21, 28
Mondays 5:00 pm-6:30 pm, four sessions October 23,30 and November 6, 13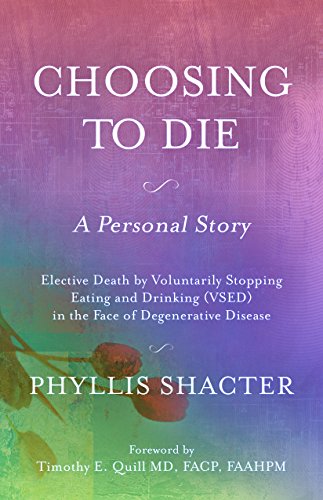 Phyllis Shacter has become an authority on voluntary stopping eating and drinking (VSED) after her husband died using the method of his choice. She spoke this month at Greenwood Senior Center and has written a book on the subject. She is featured In the Speaking of Dying film.
Whenever we show the Speaking of Dying film or facilitate a workshop, the most heartfelt questions from the audience or workshop participants reflect fears of dying with dementia and Alzheimer's. Many do not understand their options. One of the best resources is Greenwood Senior Center and their Momentia/Early Stage Memory Loss Programs, and Carin Mack, who leads support groups for those affected by neurological diseases and for their caregivers. Another important advocate is Dr. Barak Gastor, a UW primary care physician who is developing tools to help other primary care doctors diagnose memory loss sooner-- so people can make better plans and take advantage of the resources. Dr. Gastor is also working on a dementia specific Advance Directive.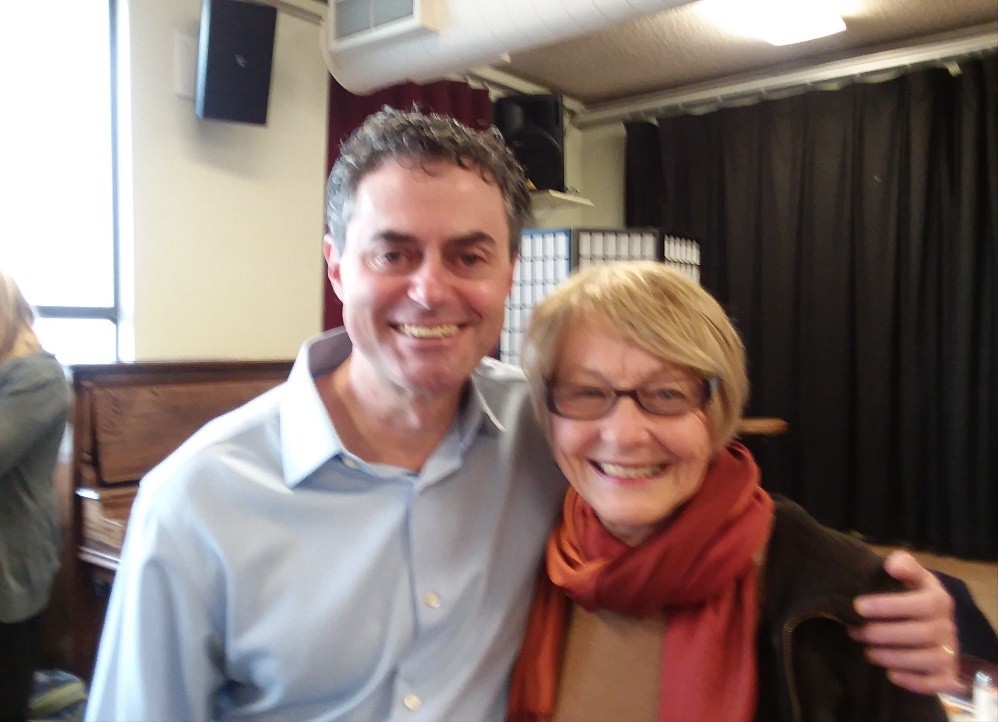 Dr. Barak Gaster and Trudy James meet in Seattle
You can see a TED talk and learn more about Phyllis Shacter on her' website, ww.phyllisshacter.com and in her newly publishedbook, Choosing To Die: A Personal Story. .
Speaking of Dying

Events

November 9, 2017 Evergreen Hospice and Home Health Luncheon--Trudy James speaking on "Listening to Our Losses".

Friday, November 17, 2017 8:30 a.m. to 3:30 p.m. Seattle Airport Marriott, Washington State End of Life Coalition Annual Meeting. Program: How Implicit Bias impacts health and well-being.
November. 28, 2017 7 p.m. Clinton Theatre, Portland, Oregon. Debut screening of a documentaryproduced by Cathy Zheutil of Peace Films. Join Trudy and others at this specialevent about facing mortality. more about the film see the Indie-go-go site.
SAVE THIS DATE:
April 14, 2018 Third Anniversary Annual Speaking of Dying Cocktail Party- Seattle First Baptist Church
End of Life Washington Annual Meeting – October 2017
Heartworks Facilitator Jennifer Kropack coordinated our Speaking of Dying table at the annual meeting of End of Life Washington . Jennifer provides screenings and workshops in the Burien area. She often says that the Speaking of Dying Workshop facilitation "feeds her heart and nourishes her soul!" Conversations with her at the table fed the heart of visitors.
The Annual Meeting featured Dr. Hope Wechkin, Medical Director at Evergreen Hospice, who offered scientific proof along with a vivid story illustrating moments of "allowing" and "attention" at the end of a life are "as real as they feel." Her
Jennifer Kropack and Dr. Hope Wechkin gather at Speaking of Dying table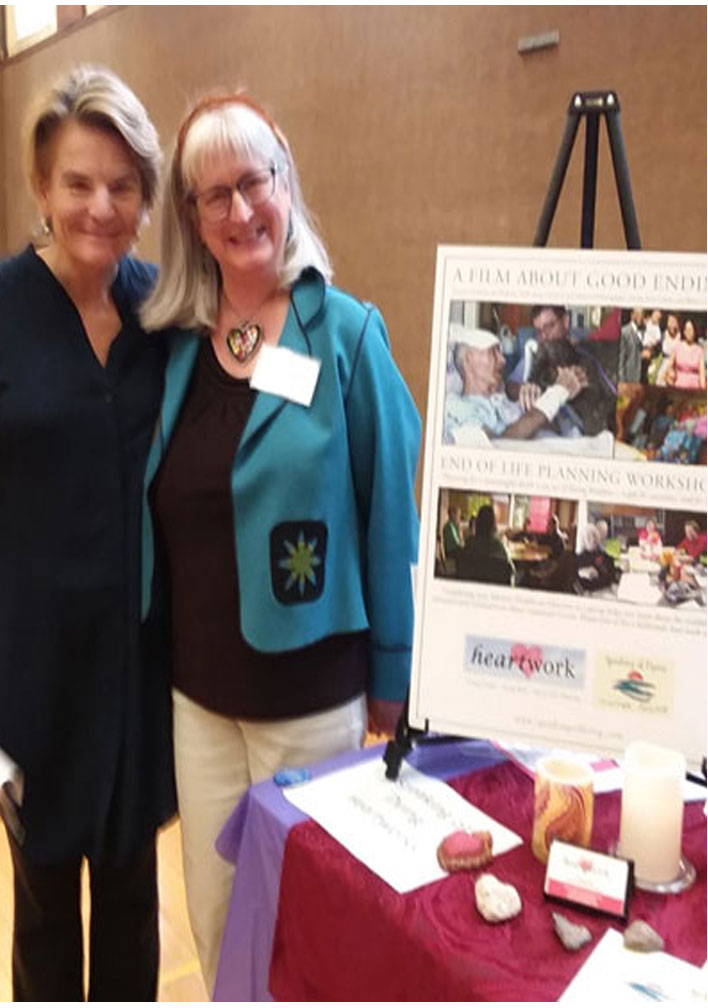 presentation supported the stories heard in our workshops about the mysterious gifts that are sometimes exchanged at the time of death.
Sally McLaughlin, Executive Director of EOL reported that client support volunteers assisted 450 families so far in 2017, of which 140 have used the law. The others were comforted by knowing that they had a choice if they needed it.
​Jordan Posamentier, ESQ. shared his vision for the organization, which sounded very much like our vision for a Speaking of Dying work: "upholding everyone's right to know all their end of life choices, along with the ability to implement their choice without barriers."

Share our film with your family and friends.
The 30-minute documentary captures the voices and stories of people becoming comfortable speaking of dying. Produced by Trudy James and filmed by Jennifer Jones, this is a video you will want to see more than once. Order it on our website today!
What is the greatest wonder of all?
The greatest wonder of all is that, each day,
death takes lives beyond counting, and yet each day each of us says,
"It will not be me, not today."

Adapted from Krishna Dvaipāyana Vyāsa in the Mahabharata
Please Help A Low-Income Senior Learn About Advanced Directives
Aging low-income seniors living in subsidized housing such as Seattle Housing Authority and Senior Housing Assistance Group often face death without any advance planning. These residents need and deserve Speaking of Dying screenings and workshops, which have expenses and costs. You can help by contributing to our scholarship fund to support the residents awaiting an opportunity to learn about advanced directives.


For larger tax deductible contributions, donate through our nonprofit sponsor, Allied Arts Foundation on the front page of http://www.speakingofdying.com. For those who do not desire a tax deduction, make the check out to Heartwork Productions. Send checks to 130 NE 95th St. A-108, Seattle, WA 98115.